Aspire概要
英語(悟)道十訓
最強の講師陣
7大特長
学長メッセージ
ボキャビルとの闘い
研究論文
Aspire校歌
プライバシーポリシー
― 研究論文 ―
Quantification of the Vector of Contextuality
in Human Communication
Ichizo Ueda
当論文は、テキサス大学スピーチコミュニケーション学部博士課程の志願者120人以上(修士課程修了者)の論文の中でTop10に選ばれたものです。
0. Overview of the Hypothesis
Low-context means what one can easily perceive and interpret, while High-context is the direct opposite. High-context and Low-context are just the two sides of a coin, that is, yin and yang, femininity and masculinity, Do and Jutsu,intangible and tangible, metaphysics( religion, spiritualism) and physics( science, materialism), East and West,nonlinear and linear, pictographic and phonetic, receiver-orientation and sender-orientation, process-orientation and outcome-orientation, mystification and crystallization, generalization and specification, internalization and externalization, and so forth.
Human communication can be complex because of gaps between the vectors of personality( mind & heart), nature( gut feeling ), and spirit, with character making a living mixture of these three elements. Thus contradictions and conflicts between " say " and " mean " and " do " are quite common in human interactions. While the High-context is the art of human challenge to shed light on this intricate human communication, the Low-context is the art of human challenge to control that puzzling interaction.
The degree of contextuality is defined as the level of " consciousness " which leads to " satori " . The 0-3 dimension is the primitive stage of human development, that is, the human endeavor to explore the environment, with " innocence " culminating in 3.0. The 3-6 dimension is the stage of human endeavor to logicalize and control all the human interactions with the environment, with " logos " culminating in 6.0. The 6-9 dimension is the stage of human endeavor to paralogicalize and harmonize the human interactions with nature, " pathos " culminating in 9.0. The 9-0 dimension is the stage of human endeavor to reach for Nirvana, eternal salvation, with " satori " culminating into 0.
1. The Stage of Prelogic
The contextuality of " 0 " is the prenatal state that can turn into anything, that is, the state of nirvana or eternal salvation of spirits with all the suffering from the limitation of human beings as a physical entity. Through this stage occurs the moment of " conception( 0.01 )". The contextuality of 0 can also occur temporarily during Zen meditation, orgasm, purely innocent horselaugh, out-of-body experience, etc. The altered state of consciousness or the state of vegetation can also make for 0.
Lowest-context possible through this stage is a baby's crying voice at the moment of birth ( 0.1 ). Then the pure nonverbal communication develops from crying of simple physiological needs to that of various human feelings such as discomfort and loneliness. The contextuality of 0.5 up to 1 on the scale of the quantification diagram is exemplified in general by utterance of six-month to one-year-old babies who can only make simple words like "Mama", or by that of worst cases of drug addicts who can no longer think or speak but only live on instinct, and the like.
The contextuality of 1 up to 1.5 is exemplified by utterance of single words given by babies aged one up to two years. Babies in the stage of 1-1.5 tend to confuse photographs with the real world. Then the next stage of 1.5 up to 2 is characterized in general by verbal ( use of single words, not sentences, for instance )and nonverbal externalizations of two-year-olds or the state of drug-induced hallucination.
The contextuality of 2 is illustrated in general by communication of three-year-olds or people who are dead drunk or extremely high on drug. They can barely make a single and simple sentence. Even if they can, their combination of words often make little sense to ordinary adult human beings. At around age 4, they can make a sentence and at around age 5, they can even make a sentence with modifiers. Though they can differentiate photographs from the real world, people in the stage of 2-2.5 on the diagram ( aged 3 to 5 on the average), in general, tend to identify fiction with the real world. The so-called " prelogical Communication " from 1 up to 3 ( especially 1 up to 2 ) is highly nonverbal, crystal-clear, and universal. I think that almost anybody can enjoy most parts of the movie, "Mask", which are very low-contextual.
2. The Stage of Logic
The contextuality of 3 can see the initial development of logic, which starts at around age 7. They start to discriminate fiction from the real world and to question or point out inconsistencies in fairy tales, and then those in the real world, with increasing contextuality from 3 up to 6. This stage of development is characterized by fidelity to language and logic. The contextuality of 4 up to 5 refers to logical verbalization shown in communication between people with average intelligence.
The contextuality of 5 can see the development of more sophisticated logic. People in this stage will start to question or point out contradictions in term; " Your remarks, ' I don't make any definitive statement ! ' and ' I'm reserved ( proudly and loudly)! ' make little sense to me. ", for example, with increasing cynicism in their mind arising from disillusionment with the real world and from their frustration with the limitation of verbal communication they are trapped in. " Love can be defined by something that the more you try to verbalize it, the further away from genuine love it goes." This is a manifestation of human endeavor to logicalize a gap between verbal and nonverbal dimensions. Then the contextuality of 5.5 can see the genuine need for the creation of a new dictionary to crystallize the existing inconsistencies through etymological study and foreign perspectives.
3. The Stage of Paralogic
The contextuality of 6 is a borderline between logic and art. Whether it is for resignation or for pursuit, people in this paralogical dimension communicate their inner feelings through eloquent silence, or gaps between verbal and nonverbal externalizations, or even gaps between nonverbal signals and gut feelings. This inclination can be illuminated by the mechanism of human psychology, that is, personality( on the outside ) as opposed to nature ( on the inside ), or the mechanism of human consciousness, that is, mind & heart / gut feeling( visceral ) / spirit /soul / collective unconscious.
I hypothesize that " Hello, anybody home? " in the movie, Back to the Future, and the following dialogue; " How long have you been here? " " Forever."; " You smoke marijuana? " " I went to college." " Sure." ( in the movie, Romancing the Stone ) are representations of paralogical communication at 6.5. Like seen in American parodies and black humor, these would be just an example of paralogical attempts in human communication. I believe that tense-and-article-free Black English in which " bad " cynically represents " great " is another manifestation of higher contextuality than standard English has. Theological diction like " When he died, I died ( in a spiritual sense), too." and the often-used line in violence movies, " You are dead!" can also be a verbal attempt at paralogicality. In the movie, Anne of Green Gables, her foster mother, Marilla's seemingly exacting attitude toward Anne as well as the Anne's reaction to Gilbert's apology would be another example of 6.5, namely, a gap in communication between the externalization and the internalization of their feelings.
The contextuality of 7 can be exemplified by the Lieutenant Colombo's give and take in the movie, which seems to be a little complicated, but can be easily understood by Harageistic people. Another easy-to-understand example around the degree of 7 in a daily conversation between a couple can go as follows: A woman asks her husband the following question in seeming consideration for his freedom of choice, " Which do you want to eat for dinner today, Japanese food or Western food? " Then he answers, " Japanese food." Her response: " What!" Then her husband says, " I thought you asked me about my choice 'cos you were considering my preference." " Sure....." Her frustration shown by this conversation indicates the following conflict between "mind" and "heart" : 1. Her consideration for her husband's choice ( 20 %-mind ) as opposed to her strong desire to enjoy Western food for some reasons such as a desire to enjoy delicious food as well as atmosphere for dating ( 80 %-heart ) 2. Her anticipation of receiving the answer, "Japanese food " ( 80 %-mind ) as opposed to her strong hope for the opposite answer ( 20 %-heart ).
The contextuality of 7.5 can be illustrated by the communication between the doctor and the terminal cancer patient who acted out his inner feelings in the movie titled Daibyonin: " Stomach pills against cancer, ha, ha, ha...", which is an expression of his mixed feelings: his derision about his past attitude toward his illness ( mind), his struggle to laugh off his fear of death ( heart ), his instinctive fear of his approaching death( gut feeling ). This type of gap between " say ", " mean ", and " do " is common in human communication.
The contextuality of 8 can be represented by such movies as " Kiss of the Spider Woman" which metaphorizes human communication to visualize the vector of human consciousness. This stage can also be epitomized by such Japanese expressions as " ganbaru" ( literally means " try ( hard )" )and " omoshiroi " ( literally means " interesting " )which can generate the countless English translations both positive and negative, depending on the context involving Japanese conjugation and nonverbal factors. Among the translations of the former example are; Good luck. Try your best. Work hard. Push it. Come on. Take it easy. Cheer up. Look sharp. Take care. Make us proud. Make it happen. Hang in there. Keep at it. Stick to it. Pathetic. I love you( A wife(husband) gives it to her(his) spouse working very hard ). Let's enjoy the process!, the last two of which are most revealing. Paralogical subtleties of Japanese communication often create this kind of deviation from dictionary usage to a greater degree, perhaps, than many other languages in the world.
The contextuality of 8.5 can be illuminated by the deathbed communication in the last scene of the above-mentioned movie, Daibyonin, " We'll see, won't we. " ( the literal translation of the Japanese word, "Aerusa." is " See." Though the nurse couldn't fully appreciate his words, paralogical communication actually took place between him and the doctor. The messages of the person who is going to cross the Great Divide are just enlightening: 1. We will all see( meet ) in the Collective Unconscious ( Some may call it " life after death " and others may call it " Nirvana ". ). 2. We will someday see the light ( You will someday get " satori " as I'm doing now ). 3. We could see me someday( We will someday see my spirit or doppelganger ). 4. We will see me soon in the film( Joke ). In Japanese communication, this kind of high-contextuality can be generated by the omission of subject words and object words ( mention of only verbs is very common in Japanese communication ) together with lack of phonological stressing or intonation, while in English communication, high-contextuality can be created mainly by polysemy.
4. The Stage of Panlogic
The contextuality of 9 is the threshold of superhuman communication. This transcendental stage is the start of "spirare"ing the vector of contextuality in communication, which is practiced often by Zen priests or master of traditional Japanese arts. The degree of 9.5 means the attainment of a command of this power. Commune with nature starts to take shape in communication with all the living creatures including animals, reptiles, plants, and even insects, with increasing contextuality of 9-10. Mortals in this stage can penetrate others' psyche through the slightest hints of change in breathing and eloquent silence. I call this transcendental or transparent interaction with nature " Haikistic( like Haiku poetry)" communication, because Japanese Haiku poetry is a verbal means of communication, which is too high-contextual to interpret.
The contextuality of 10 to 11 can see the realization of telepathic communication beyond the spatial limitation, through which one can communicate with others from anywhere in the world without making any real contact with them. The degree of 10.5 means master of telepathy. This telepathic communication can sometimes happen just temporarily to ordinary people living in the commonsense world. This stage can also see a higher level of commune with nature, that is, communication even with machines and viruses. Average prophets, hypnotists, channelers, shamans who can cure disease with " passing " are around 10.5 in this dimension. The movie, 2001 Space Odyssey reveals human endeavor to communicate with machines.
The contextuality of 11 to 0 can see the realization of communication beyond the limitation of "time and space", through which one can communicate with others both living and nonliving anywhere in the Universe, anytime in the past, present, and future. In a manner of speaking, senile dimentia can also develop in this stage. The greatest prophets, shamans or hypnotists are all around 11.5 in this dimension. They can see and work on karma. This stage is the threshold of a journey to the origin of life or the source of the universe. Upon 0 is the stage of nirvana, eternal salvation, conception and reproduction, that is, the beginning of a new life.
5. Conclusion
Mind( reason ), heart( sense ), spirit( viscera or gut ), and soul ( L / R brain: communication between left and right brain or unification of Mind & Body into the Universe) are respectively what can lead each stage into the next stage both clockwise and counterclockwise. 0 can be different in nature from Christian "God" or Platonic "Philosopher-king" or Descartesan "The Source of The Universe" which are characterized by the distinction between Subject and Object. 0 can also be different from "Brahma" characterized by the indentification of Subject with Object, that is to say, " Human beings are and are part of Nature or God, and vice versa." 0 can be beyond the stage of "Aufheben" which challenges dichotomy to reach the stage of Panlogic. 0 can be over everything: 0 can be God, Philosopher King or Brahma or Aufheben or Collective Unconscious or the Universe, and 0 cannot be God or Philosopher-king or Aufheben or Collective Unconscious or the Universe, that is, " 色即是空 空即是色 " which is the epitome of " the Androgynous " for genuine " Tolerance & Equality " and can only be seen through "visceral eye", and all of this, I think, can be just a hypothesis.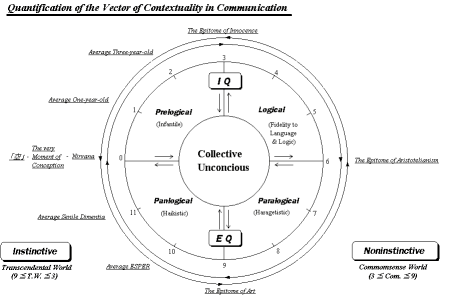 REFERENCES
Stephen C. Pepper (1970). World Hypothesis: University of California Press.
Michihiro Matsumoto (1984). Haragei: Tokyo: Kodansha Ltd.
Larry A. Samovar & Richard E. Porter (1994). Intercultural Communication: Belmont,California: Wordsworth Publishing Company.
Karlyn Kohrs Campbell (1996). The Rhetorical Act: Belmont California: Wordsworth Publishing Company
Robert McCrum William Cran Robert Macneil (1986). The Story of English: London: BBC Books.
Mark L. Knapp (1992). Nonverbal Communication in Human Interaction (3rd ed.): USA: Harcourt Brace College Publishers.
Lea P. Stewart & Pamela J. Cooper & Alan D. Stewart & Sheryl A. Friedley.
Communication and Gender (3rd ed.): Scottsdale Arizona: Gorsuch Scarisbrick, Publishers.
Daniel Goleman (1996): Emotional Intelligence: Tokyo: Kodansha Ltd.
Jenny Thomas (1995): Meaning in Interaction: an Introducation to Pragmatics: London and New York: Longman Group Ltd.
Joseph A. Devito (1995): The Interpersonal Communication Book (7th ed.): New York: Harper Collins College Publishers.
Juzo Itami ( Director). (1993 ). Daibyonin: Tokyo: Toho Ltd.
The Astrological Association. Recent Advances in Natal Astrology: A Critical Review in Natal Astrology(1900-1976): Prepared under the aegis of The Astrological Association
Kenneth G. Henshall(1988). A Guide to Remembering Japanese Characters: Rutland, Vermont & Tokyo: Tuttle Company, Inc.
Victoria Fromkin & Robert Rodman(1983). An Introduction to Language(3rd ed.): New York: CBS College Publishing.
F.R.Palmer(1977). Semantics(2nd ed.): Cambridge University Press.
Danny D. Steinberg (1982). Psycholinguistics / Language, Mind and World: New York: Longman Group Limited.
Takayuki Ishii(1989). The L & R of English: Osaka: TAC Research Laboratory.
Peter Trudgill(1974). Sociolinguistics / An Introducation to Language and Society: London: Penguin Books(1975).
AS Hornby(1975). Guide to Patterns and Usage in English : Oxford University Press Longman Group UK Limited(1991 & 1995 ). Longman Dictionary of Contemporary English.
COBUILD(1985 & 1995). Collins Cobuild English Language Dictionary.
Shigeo Haruyama(1995). Nohnaikakumei: Tokyo: Sanmark Publishing Company.
Ichizo Ueda(1988). Eigo Hoshiuranai & See Ninsoh : Tokyo: Asuka Publishing Company.
The Reader's Digest Association Limited(1978). Reader's Digest Library of Modern Knowledge: London: The Reader's Digest Association Limited.
植田 一三(Ichay Ueda)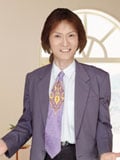 年齢・性別・国籍を超える英悟の超人(ATEP [Amortal "Transagenderace" Educational Philosophartist]), 最高峰資格8冠突破&ライター養成校「アスパイア」学長。
自己実現と社会貢献を目指す「英悟道」精神,"Let's enjoy the process!(陽は必ず昇る)"を教育理念に,指導歴40年で英検1級合格者を約2,700名以上輩出。出版歴35年で著書は120冊を超え,多くはアジア5か国で翻訳。
ノースウェスタン大学院・テキサス大学博士課程留学,同大学で異文化間コミュニケーションを指導。
教育哲学者(educational philosopher),世界情勢アナリスト,比較言語哲学者(comparative linguistic philosopher),社会起業家(social entrepreneur)。